ALPACA, A TREASURE OF THE ANDES
Alpacas have been prized for their fibre since Pre-Incan times due to the properties and quality of their hair. There are two Alpaca types: Huacaya and Suri.
The alpaca (Lama pacos) is one of the most beautiful South American camelids. Related to the llama, guanaco and vicuña, alpacas have been prized for their fiber since Pre-Inca times due to the properties and quality of their hair. There are two alpaca types: huacayo and suri.
Today Michell & Company processes this time-honored fiber with passion, together with state-of-the-art technology whilst caring for the environment.
---
Alpacas are indigenous to the Peruvian highlands, where they have been domesticated since the time of the Pre-lnca cultures. There are an estimated 3.5 to 4 million alpacas in South America; approximately 95% are to be found in the southern regions of Peru.
Alpacas are bred at altitudes ranging from 3500 to over 4500 meters above sea level, where they can naturally withstand temperatures that may fluctuate between -20°C (-4ºF) and +30°C (86ºF) in a single day, surviving on a special low-protein diet based on natural grasses.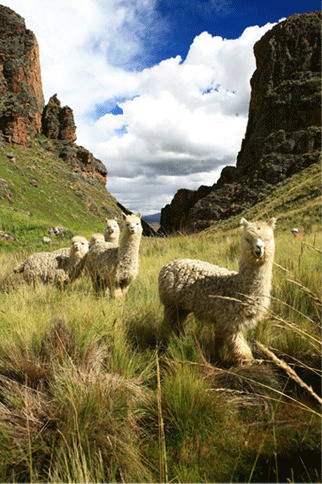 ---
Michell, whose activities are focused on producing and exporting the finest Peruvian alpaca, has extended its efforts from developing high-quality alpaca-fibre products to animal breeding and raising. This is essential for creating fine-quality animals which in turn yield excellent fibre for processing.
During the early 1980s, Michell made the decision to set up an alpaca-breeding ranch in the Andean highlands near Puno, close to Lake Titicaca. The main emphasis was on improving alpacas through breeding practices and to educate small farmers, who own the majority of the animals throughout the alpaca-rich district of Puno. The plan got off to a good start but was suddenly and violently interrupted by the Shining Path terrorists who disrupted most businesses throughout the region, making the ranch unsafe for its employees.
When terrorism subsided in 1995, Michell committed itself once again to a model breeding program in the district of Puno, establishing the Mallkini Ranch, which is the largest privately-owned alpaca operation on the Peruvian highlands.
Mallkini possesses a herd of approximately 2500 huacaya and suri alpacas which have been carefully selected for its breeding programs. Michell is also sharing the knowledge it has acquired in breeding with communities and cooperatives in the district of Puno with the sole objective of improving the fibre quality. Today Mallkini's herd is among the best in Peru.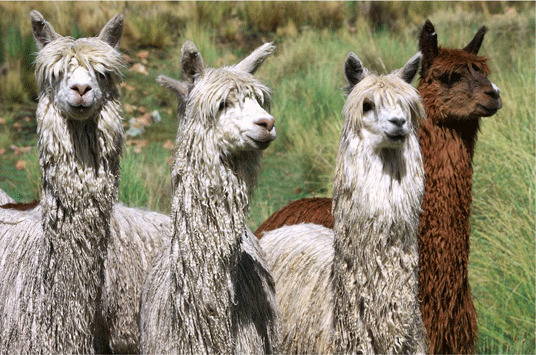 ---
Alpaca is a silky, soft, durable fibre that has unique thermal properties due to the microscopic air pockets found within it. These pockets allow the user to breathe through the fibres on warm days, and likewise trap body heat in cold weather. It is also elastic and non-flammable.
Alpaca hair occurs in over 24 natural shades, which makes it an attractive alternative for top designers world-wide. The versatility of the alpaca fibre allows it to be used in knitted and woven garments, accessories and crafts.